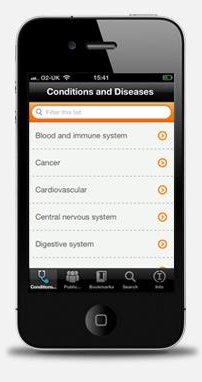 Selected useful apps for mobile devices. Links to locate further apps are at the end of the list.
BNF (British National Formulary) and BNF for Children
Android | Apple
SIGN Guidance (Scottish Intercollegiate Guidelines Network)
Android | Apple
Bluefire Reader
Android | Apple
Required to download many of our ebooks to your device for offline reading. Free registration for an Adobe ID required.
Lab Tests Online UK
Android | Apple
Understand the many clinical laboratory tests that are used in diagnosis, monitoring and treatment of disease.
Medscape Mobile
Android | Apple
A US resource providing medical news, clinical trial coverage, drug updates, journal articles, CME activities and more. Free registration required.
Pubmed Mobile
Android
GMC Continuing Professional Development app for doctors
Android | Apple | More Information
Locating further apps
Health Apps Library
Apps to help you manage your health. All apps have been reviewed by the NHS to ensure they are clinically safe. Includes free and paid-for apps.
iMedicalApps
Peer-reviewed medical apps. Includes free and paid-for apps.