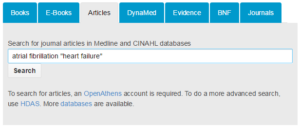 Do you struggle to locate good journal articles on a topic? Or once you found some good ones, it's tricky to access the full text?
We think we have the answer!
Using the 'Article' tab on our OmniSearch facility, you can carry out a search of the Medline (general medical database) and CINAHL (nursing and allied health) databases at the same time, and get a list of relevance-ranked results in seconds, many of which will have links ot the full-text (or if not, there are links to check our holdings, or request a copy). You can easily filter for articles that have a PDF copy available, or for articles in a certain date range or in English.
You'll get references to articles not covered by Google, and accessing full-text is a single click away for many articles. You can also repeat your search in other selected databases.
The OmniSearch 'Article' tab also supports a range of search operators so you can make your searches more accurate using techniques such as truncations, phrase searching, and boolean logic. More details are available in our guide to doing an article search in OmniSearch.
You'll simply need an NHS OpenAthens account to access the resources covered by OmniSearch, including the Article search.
For more comprehensive or complex searches, a larger range of journal databases are available with the NICE HDAS search interface.