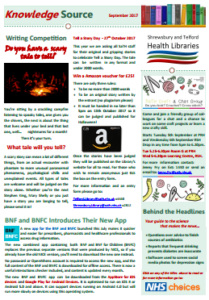 Our latest newsletter is now available to download.
In this issue you will find information on:
Writing Competition
Do you have a scary tale to tell? This year we are asking all SaTH staff for their original and gripping stories to celebrate 'Tell a Story Day'.
BNF and BNFC Introduces Their New App
A new app for the BNF and BNFC launched this July makes it quicker and easier for prescribers, pharmacists and healthcare professionals to access drug information.
Behind the Headlines
A guide to the science that make the news and the facts behind the stories.
SaTH Craft and Chat Group
Do you Knit, Crochet, Cross Stitch or enjoy any other type of crafting, or would like to learn a new skill? Come and join a friendly group of colleagues for a chat and a chance to work on some craft projects or learn a new crafty skill.
Revalidation Reflective Reading Sessions
Supporting Nursing & Midwifery Revalidation, how do the Revalidation Reflective Reading Sessions work?
Pocket-sized Training – 2 New Sessions Taking Place
A Short Introduction to Medical Terminology.
This short session is designed as an introduction to medical terminology for non-medical staff.
Library OmniSearch
Library OmniSearch is our one-stop shop for searching library resources, covering books, e-books, articles, evidence resources, the BNF and journals
National Bring Your Teddy to Work Day 
Wednesday 11th October 2017 – Can't take a Teddy into the workplace? Just drop them off at the Teddy Bear Crèche in the libraries, they can have hours of fun, stories and meet new pals!