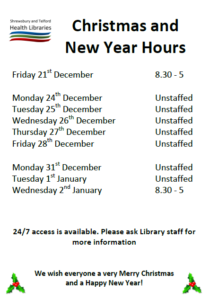 Shrewsbury and Telford Health Libraries will be unstaffed over the Christmas period, but for eligible library members it is still possible to access our facilities 24/7.
At Telford, just ask staff if you need the door code to access the library and IT Suite out of hours. At Shrewsbury we operate a swipe card system for the Learning Centre, for which there is a charge of £5.
Enjoy the festive season (and the picture of the Telford 'Elf' Library staff)!