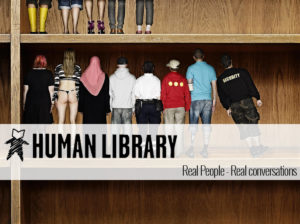 We are holding a Human Library event in the Shrewsbury Health Library on the 24th April between 10.30am and 1.30pm.
The Human Library is different to a usual library – instead of printed books, real people are on loan to readers. It's a place where difficult questions are expected, appreciated and answered.
The books come with a variety of experiences and stories. You could borrow ADHD, Polyamorous, Refugee, Muslim, Sexually Abused or any number of different titles (actual titles depend on which books are available on the day).
The Human Library is designed to build a positive framework for conversations that can challenge stereotypes and prejudices through dialogue. You can watch the books blink, cry, laugh, and think. You can ask them any sort of question and get a real answer. People who volunteer to become books make their experiences open and available, usually on issues that people tend to have a difficult time discussing. You're encouraged to ask questions freely, and you'll get honest answers in return.
We invite you to come along and 'borrow' some of our books.