Resources to help support change management.
Books and e-books
Books can be reserved for collection by using the 'Reserve a copy' link on the catalogue (you'll just need your library card number). Access to e-books requires an NHS OpenAthens account.

Change management: the people side of change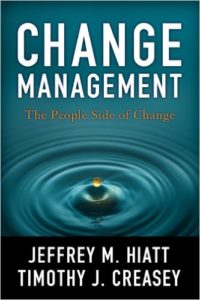 [book]. Jeffrey Hiatt; Timothy Creasey (2012)
An introduction to the discipline of change management, and a primer to catalyze change leadership and competency in managers and executives. Change Management is a practical look at what it means to manage the people side of change, and gives the reader insight into best practices in this area.
The art of change leadership: driving transformation in a fast-paced world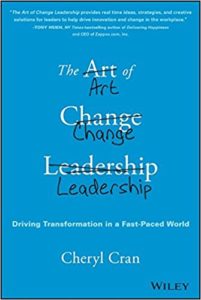 [book]. Cheryl Cran (2015)
An approachable guide for leaders and team members that illustrates how to increase speed and agility during times of intense technological innovation and fast change, this resource focuses on the ways in which you, as an individual, can harness your unique abilities to lead cultural change and personal leadership in a positive and proactive way. Through eleven comprehensive chapters, explore the need for increased human brain speed, how to improve your focus, the body/mind connection, agility within a team setting, improving productivity, communication with your team, and more.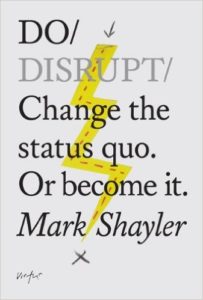 Do disrupt. Change the status quo. Or become it [book]. Mark Shayler (2013)
This book is about disruption. About doing things differently. About having ideas that will change the world. That will at least change your world. It s also about delivering those ideas. Do Disrupt is a workbook that will help you create ideas and take them from concept to market. It will encourage you to define your customer, identify the competition…and then out-smart them. You'll find out why you need a chat with your Nan and a tape measure. It's not enough to shake things gently. It s about thinking big. Being innovative. Making a difference.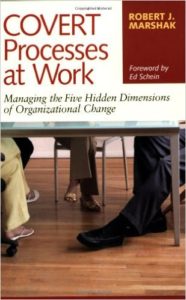 Covert Processes at Work: Managing the Five Hidden Dimensions of Organizational Change: Managing the Hidden Dimensions of Organizational Change [book] Robert Marshak (2006)
This is the first and only guidebook that specifically outlines methodologies for diagnosing and dealing with all of the 'hidden' or covert factors that can subtly sabotage even the most meticulously planned change processes.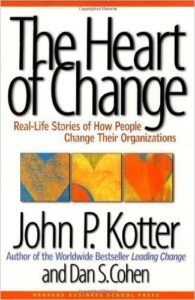 The heart of change: real-life stories of how people change their organizations [book] John Kotter; Dan Cohen (2002)
Why is change so hard? Because in order to make any transformation successful, you must change more than just the structure and operations of an organisation – you need to change people's behaviour. The Heart of Change is your guide to helping people think and feel differently in order to meet your shared goals. This focus on connecting with people's emotions is what will spark the behaviour change and actions that lead to success.
Contains the 'eight steps to successful change' model.
Managing transitions: making the most of change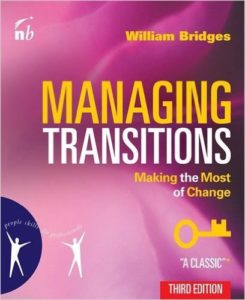 [ebook] William Bridges (2009)
The business world is constantly transforming. When restructures, mergers, bankruptcies, and layoffs hit the workplace, employees and managers naturally find the resulting situational shifts to be challenging. But the psychological transitions that accompany them are even more stressful. Organisational transitions affect people; it is always people, rather than a company, who have to embrace a new situation and carry out the corresponding change.
Contains the Bridge's model of change and transition management.
Other resources
Managing organisational change. NHS North West Leadership Academy
Contains brief documents relating to theories of organisational change (including some of those in the books above), effective change management and personal responses to change. It may help in considering your responsibilities for the leadership and management of change and when considering your own and others responses to change.