Resources about human factors in healthcare.
Books and e-books
Books can be reserved for collection by using the 'Reserve a copy' link on the catalogue (you'll just need your library card number). Access to e-books requires an NHS OpenAthens account.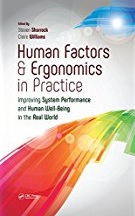 Human factors and ergonomics in practice: improving system performance and human well-being in the real world [book]. Steven Shorrock and Claire Williams (2017)
This book concerns the real practice of human factors and ergonomics (HF/E), conveying the perspectives and experiences of practitioners and other stakeholders in a variety of industrial sectors, organisational settings and working contexts. The book blends literature on the nature of practice with diverse and eclectic reflections from experience in a range of contexts, from healthcare to agriculture. It explores what helps and what hinders the achievement of the core goals of HF/E.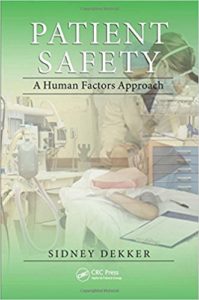 Patient safety: a human factors approach [book]. Sidney Dekker (2011)
People often think, understandably, that safety lies mainly in the hands through which care ultimately flows to the patient―those who are closest to the patient, whose decisions can mean the difference between life and death, between health and morbidity. The human factors approach refuses to lay the responsibility for safety and risk solely at the feet of people at the sharp end. That is where we should intervene to make things safer, to tighten practice, to focus attention, to remind people to be careful, to impose rules and guidelines.
The breadth of the human factors approach is itself testimony to the realization that there are no easy answers or silver bullets for resolving the issues in patient safety. A user-friendly introduction to the approach, this book takes the complexity of health care seriously and doesn't over simplify the problem. It demonstrates what the approach does do, that is offer the substance and guidance to consider the issues in all their nuance and complexity.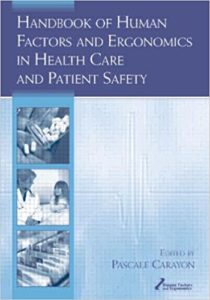 Handbook of human factors and ergonomics in health care and patient safety [book]. Pascale Carayon (2007)
A complete resource, this handbook presents current knowledge on concepts and methods of human factors and ergonomics, and their applications to help improve quality, safety, efficiency, and effectiveness in patient care. It provides specific information on how to analyze medical errors with the fundamental goal to reduce such errors and the harm that potentially ensues. Editor Pascale Carayon and an impressive group of contributors highlight important issues relevant to healthcare providers and professionals and their employers. They discuss the design of work environments and working conditions to improve satisfaction and well-being, and the reduction of burnout and other ailments often experienced by healthcare providers and professionals. It is a remarkably comprehensive account offering readers invaluable knowledge from individuals who are some of the most respected in the field.
Other resources
The Clinical Human Factors Group is a broad coalition of healthcare professionals, managers and service-users who have partnered with experts in Human Factors from healthcare and other high-risk industries to campaign for change in the NHS.
Health and Safety Executive – Human Factors/Ergonomics
People are involved in all aspects of work, which is why HSE recognises the importance that human factors can play in helping avoid accidents and ill-health at work.