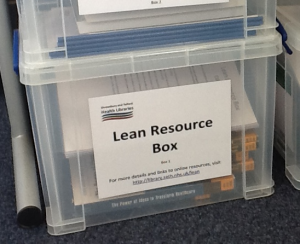 Many of these items can be found in our Resource Boxes. The Resource Boxes are collections of materials on popular topics available for wards or departments to borrow for a time.
Books and e-books
Access to e-books requires an NHS OpenAthens account. Copies of books that are not available as an e-book are held in the libraries, and can be located on the Shropshire Health Libraries Catalogue.
A Leadership Journey in Health Care : Virginia Mason's Story. Kenney, Charles (2015)
An inside look at process improvement from the world leader in applying Lean methods to health care. It presents key lessons learned as well as the best practices developed at Virginia Mason during its 12-year process improvement journey.
Accelerating Health Care Transformation with Lean and Innovation : The Virginia Mason Experience. Plsek, Paul E. (2013)
Describes how Virginia Mason has systematically integrated innovative structures, methods and cultural practices into its implementation of lean. It supplies examples that show how lean and innovation can work hand-in-hand to transform your value streams.
Transforming Health Care : Virginia Mason Medical Center's Pursuit of the Perfect Patient Experience. Kenney, Charles (2010)
After a decade of dedicated work, Virginia Mason stands as an example of how to deliver health services that practise wellness, operate in the black, and do no harm.
Lean Leadership for Healthcare : Approaches to Lean Transformation. Bercaw, Ronald G. (2013)
Mapping Clinical Value Streams. Jackson, Thomas L. (2013)
Leading the Lean Healthcare Journey : Driving Culture Change to Increase Value. Wellman, Joan; Jeffries, Howard; Hagan, Pat (2010)
The Power of Ideas to Transform Healthcare. Hoeft, Steve (2015)
5S for Healthcare. Jackson, Thomas L. (2009)
Essentials for the Improvement of Healthcare Using Lean and Six Sigma. Stamatis, D.H. (2011)
Kaizen Workshops for Lean Healthcare. Jackson, Thomas (2013)
Lean hospitals: improving quality, patient safety, and employee engagement. Graban, Mark (2012)
Leveraging lean in healthcare: transforming your enterprise into a high quality patient care delivery system. Protzman, Charles, Mayzell, George (2011)
Articles
Access to some articles requires an NHS OpenAthens account.
Joosten T, Bongers I, Janssen R. 2009. Application of lean thinking to health care: issues and observations. International Journal for Quality in Health Care. 21 (5), pp. 341-347
Simon R.W., Canacari E.G. 2012 A Practical guide to applying lean tools and management principles to health care improvement projects. AORN Journal,  95  (1) , pp. 85-103.
David M Clark, Kate Silvester, Simon Knowles. 2013. Lean management systems: creating a culture of continuous quality improvement.  Journal of Clinical Pathology 66 (8) pp. 638–643
[mainly concerned with laboratory medicine]
Other documents
Going lean in the NHS. Institute for Innovation and Improvement (2007)
An introductory guide for NHS staff, including a number of case studies.