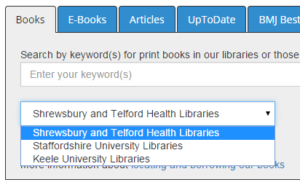 That may be a slight exaggeration, but OmniSearch can do a lot! From a single search box you can search many of the resources available to Shrewsbury and Telford Hospital NHS Trust, Shropshire Community Health NHS Trust, Shropshire CCG, Keele University and Staffordshire University.
Simply select the type of resource you want to search, use the dropdown to select your library service if necessary, and type your keyword(s). Once you've searched one type of resource, simply switch to another and click search again – no need to re-type your search!
Did you also know that under the Evidence tab you have access to  NICE Evidence, the TRIP Database and the Cochrane Library?
The Article tab searches two key databases at once – Medline and CINAHL – covering most areas of medicine, nursing, midwifery and allied health topics.
OmniSearch makes searching quick and easy, but more advanced searching is possible using different search tools, such as HDAS for articles. If you need more help, contact us and we'll be able to provide assistance or training on how to search effectively. We also have the Knowledge Navigator to help you identify the best search tools for different types of material, from clinical practice guidelines to observational studies.