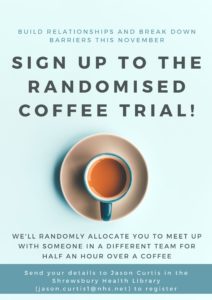 Randomised Coffee Trials (RCTs) are a well-used way to meet people across an organisation and find out more about them. They can help to give you a better idea of what goes on other teams, and what their challenges are. It's an easy way to meet new people, build relationships, share learning and build community.
A Randomised Coffee Trial (a play on the term 'randomised controlled trial' in medical research) is taking place across SaTH during November and anyone can sign up to take part.
Simply send your details to Jason Curtis (jason.curtis1@nhs.net) and you'll be randomly* matched with someone else in a different team. You'll then arrange to meet with them for half an hour over a coffee (or other hot drink) at a venue of your choice during November. What you talk about is up to you, it doesn't even need to be work-related!
You don't need to meet in the library, but if you do you can both claim a free hot drink and biscuit.
* May not be entirely random, as we'll match you with someone at the same site as you, and we'll make sure your RCT partner is from a different team.