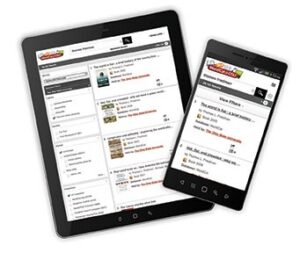 We're busy working on an exciting project to replace our existing library catalogue with a new 'discovery system' that will not only manage our print resources but will enable easier searching of our increasing range of online resources.
WorldCat Discovery is used by many universities, and will enable us to bring together many resources that are currently on different systems, so for example when you do a search for a print book, you'll also see any e-book versions you have access to. As we look to the future and increase the range of e-books we make available from different providers, this will become increasingly important. Our new discovery system will also work on mobile devices.
If you're looking for print books, you'll find pictures of the book's cover, information about the contents, and you'll have the ability to 'browse' the shelves virtually. We'll still be able to offer automatic renewals, up to 16 loans at any one time, and no fines (except for recalled books). You'll also still be able to reserve books for collection or to be sent to your workplace.
It will also be possible to do searches for articles, filter to any that have full-text available, and where it isn't available in full-text it will be easy to request it from us. It will also be really simple to get a fully-formatted citation of any resource, for export to any reference manager package you use.
We're working hard to meet the 'go live' date of 28th October, and prior to that we'll keep you informed of any changes to our services. We do anticipate that we may have a couple of days where the catalogue and self-issue machines will be unavailable, and we may need to suspend the ability to reserve books for a week or two, but we'll do our best to minimise any disruption.
Keep an eye on the @sathlibraries Twitter feed for updates.