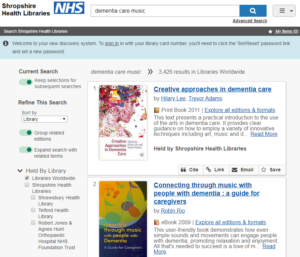 We've just launched a new library discovery system to replace our old catalogue. Our new system, WorldCat Discovery, offers a much better search experience, and now covers our e-books and articles as well as our print collections.
You won't need to re-register, and all your loans have been transferred over to the new system. You'll keep your existing library card number, but you'll need to set a new password to login to the catalogue to renew your loans – when you go to sign in to the catalogue, you'll be able to click the 'Set/Reset' password link to send yourself a password reset email. Passwords need to be nine characters or more, with a mixture of letters and numbers.
You can also access the discovery system via our OmniSearch facility on the website.
The new discovery system will offer lots of advantages over the old catalogue, and you'll be able to:
Search for e-books and articles, along with print books
Create your own shareable lists of resources
See book covers (to help you find the book on the shelf) along with more details about books such as contents lists
Do a virtual 'shelf browse' and see what other books are on the same shelf
Get formatted citations for any items you find, in a variety of citation styles including Harvard, and you can export them to reference manager packages such as RefWorks or Mendeley
See print and e-books together so you can see instantly if we hold a e-book copy of a print book (and vice versa)
Results can be quickly filtered by year, format, library, author and more
Use Medline, ERIC, PsycARTICLES and the Cochrane Library databases to conduct a wide-ranging article search
See (and eventually be able to request) books held by other libraries outside Shropshire
To access the e-books and articles that are available to your organisation, you'll still need an NHS OpenAthens account.
We hope you like the look of the new discovery system, and find it much easier to find and access information!