Collect your free Christmas card making kit from Shrewsbury or Telford Health library and get crafting!
We only have a limited number of kits to give out on a first come, first served basis, make sure you visit the library if you're interested! Kits are available from Monday 23rd November 2020.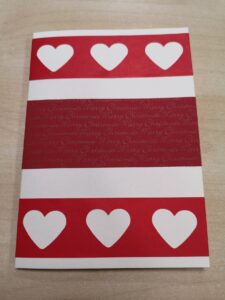 As we aren't able to run to a face-to-face Christmas card making session this festive season, the library team are offering a limited number of Christmas card making kits to Trust staff and students. The kits contain two blank cards with envelopes, blank gift tags, a selection of craft materials such as coloured card, ribbon, buttons and winter-themed templates.
If you're wondering where to start with card making, have a look at our ideas to make some simple but effective Christmas cards.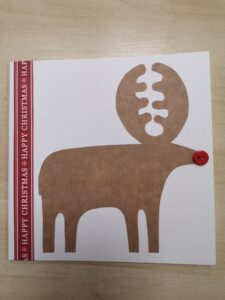 Templates
Cut out the included templates to cut out robins, Christmas trees, reindeers, snowflakes or gingerbread men from brown paper, coloured card or festive wrapping paper. Use marker pens or paint to draw on features such as eyes or a mouth, or alternatively glue on sequins, buttons or googly eyes. Or use the templates to draw around and paint, colour or decoupage the picture on the front of your card.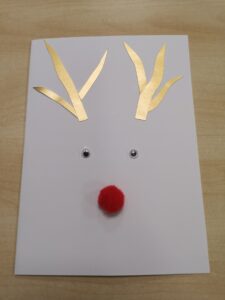 Buttons
Buttons can be used as a reindeer nose, eyes on a snowman, a snowman body on a gift tag, or anything else you can think of. Use the reindeer template in the kit to cut out or draw a reindeer shape, then glue the button down to make a colourful 3D nose. Pipe cleaners make good antlers if you have any spare.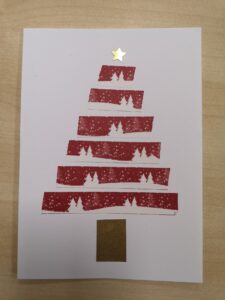 Coloured card/Glitter strips
Coloured card can be used to cut out shapes using the templates, or as a a border or background. Glitter strips make nice borders or accents on a card, stick them along the top or bottom of the card and put a festive image such as a robin or gingerbread man in the centre. Card can be used to create interesting 3D effects too, fold pieces of card or layer pieces of card and coloured paper. Crumple up wrapping paper or brown paper and then smooth out and stick down to create different textures.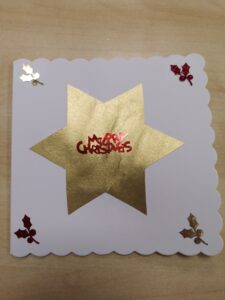 Acetate sheet
Acetate sheets can be placed together and taped around three edges to create a pocket. The acetate pocket can then be filled with glitter or sequins and then taped closed to create a 'snowglobe' style shakeable card. Cut a hole in the front of your blank card, and stick the acetate pocket on the inside of the front of the card, to create a window effect.
You can create a window without using sequins by cutting a hole in your card and sticking the acetate over the hole. Then cut a sleigh and reindeer or a Christmas tree silhouette using coloured card or paper. Stick the silhouette cut out to the back of the acetate, and then stick a contrasting piece of coloured paper over the back. A white sleigh with a black background would look good, or a green christmas tree with a red or gold background. You could even decorate the front of the card to look like a window complete with curtains and windowsill.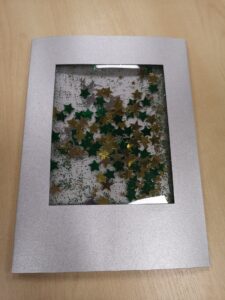 Other materials
Why not look through your recycling box for any useful bits that can be repurposed to make cards? Thin cardboard, for example from cereal boxes can be wrapped with wrapping paper or coloured paper to create a 3D present which can be glued to a card. You could even cut out a miniature gift tag from card and write the name of the person you are sending the card to on the tag.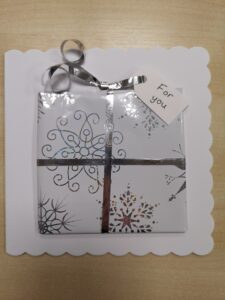 Gift tags
It's really easy to create simple but effective gift tags, simply thread ribbon or twine through the hole in the blank tag and decorate however you'd like. Keep it simple and stick on a couple of festive sequins, or use some paint to create fingerprint reindeer or fairy lights. Create a tiny box by sticking on a square of brown paper and twine tied into a bow.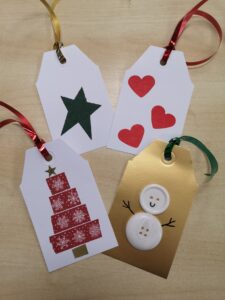 We'd love to see your crafty creations, feel free to tag us on Twitter @sathlibraries or email sath.shrewsbury.library@nhs.net or sath.telford.library@nhs.net
Merry Christmas from all of the library team!