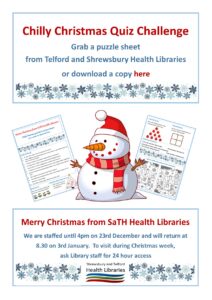 Pick up a puzzle sheet from Shrewsbury and Telford Health Libraries to challenge you this Christmas.  Enjoy a mixture of quizzes, picture puzzles, number games, and much more.  There are no prizes - it's just for fun.  Ask library staff  for the answers if you get stuck!
We are staffed until 4pm on 23rd December and will return at 8.30 on 3rd January. 
To visit during Christmas week, ask Library staff for 24 hour access.
Merry Christmas from Shrewsbury and Telford Health Libraries