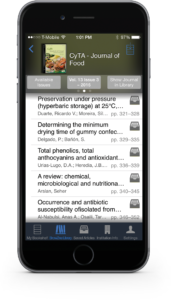 We have a new subscription to the BrowZine journal tool for Shrewsbury and Telford Hospital NHS Trust staff. Feedback and usage were both positive in our trial, so we felt we should go ahead and purchase it.
BrowZine allows you to browse journals by subject, browse contents pages, bookmark your favourite journals and articles, and in many cases access the full-text with one-click. The mobile App also allows you to download PDF copies of articles for offline reading, and get notifications when new issues of your favourite journals are published.
Visit our BrowZine page to access our journals on your desktop. If you want to bookmark journals or articles, simply create a free BrowZine account. Alternatively, download the BrowZine app for Android and iOS devices (to use the app, you'll need an NHS OpenAthens account to authenticate it). The app makes access even easier – as it is NHS OpenAthens authenticated, you won't have to log in again to get access to articles in most cases, making access literally one-click.
Both the desktop and mobile app versions allow you to add journals to virtual bookshelves, which you can name, and you can also create collections of articles. Both bookshelves and collections are synchronised across desktop and mobile app.
For more information, download our brief guide to BrowZine.
For anyone that is not affiliated to Shrewsbury and Telford Hospital NHS Trust, you can still check which journals you have access to by using the 'Journals' tab on OmniSearch and selecting your organisation from the dropdown menu.