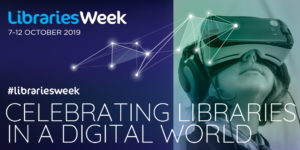 We're running two half-day drop-ins during National Libraries Week 7-12 October, which this year celebrates 'Libraries in a Digital World'.
Pop in anytime during the sessions to find out more about the range of apps and e-resources we provide. Bring along your mobile devices for help in installing and using the resources.
The sessions take place in the Learning Centre at RSH on 8th October between 8.30-1.30 and in the Library, Education Centre, PRH on the 9th October between 1-5.
Libraries Week is a celebration of libraries in all sectors, and in 2019 will celebrate and explore how libraries are engaging communities through technology, building digital skills and confidence, encouraging digital participation and inclusion, supporting health, wellbeing and education and supporting local business and enterprise.
Look out for our Tweets from @sathlibraries during Libraries Week promoting the range of digital resources we provide to support healthcare staff and students.