LibKey Nomad is a Chrome browser extension that links to our BrowZine account and makes it easier to see which articles you have full-text access to when using sites like PubMed, Wikipedia and some scholarly publisher websites. The extension is available for staff and students of Shrewsbury and Telford Hospital NHS Trust.
To install the extension, visit the Chrome Web Store and follow the instructions to add it to your Chrome browser. The extension is only currently available for Chrome.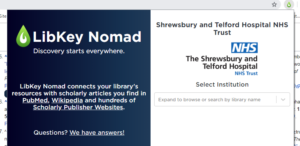 Once installed, select 'Shrewsbury and Telford Hospital NHS Trust' as your institution.
If you then visit PubMed, Wikipedia or any of the other sites that are supported (see the list of publishers supported for more information) links to the PDF or full-text copy will shortly appear where we have a subscription to that journal.
This is a very new service, and does seem to have a few drawbacks. For one thing, it can be very slow for full-text links to appear. It also doesn't seem to work on all the scholarly publishing sites it's supposed to. Once you've accessed the site that holds the full-text, you may still need to go through a few step to login with an NHS OpenAthens account.
Hopefully these issues will be ironed out, and it will prove to be an increasingly useful tool for locating full-text articles.
Note that LibKey Nomad doesn't provide links in Google Scholar, but we have set up the ability for you to add links by using the Library Links feature.