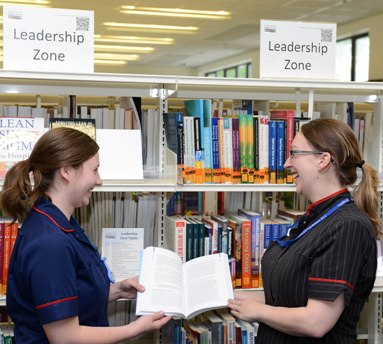 We offer access to range of resources to support leadership across the organisations we serve. These include:
Special collections of books in Leadership Zones in both our libraries, with over 850 titles included
Many more available as e-books covering management and leadership topics, available for download is required
Librarian support for searching for leadership information in our range of resources
E-books to support the Transforming Care Institute
Access to e-books requires an NHS OpenAthens account. We also have these as print books, and they are also included in the Lean Resource Boxes that can be borrowed from us.
A Leadership Journey in Health Care : Virginia Mason's Story. Kenney, Charles (2015)
An inside look at process improvement from the world leader in applying Lean methods to health care. It presents key lessons learned as well as the best practices developed at Virginia Mason during its 12-year process improvement journey.
Accelerating Health Care Transformation with Lean and Innovation : The Virginia Mason Experience. Plsek, Paul E. (2013)
Describes how Virginia Mason has systematically integrated innovative structures, methods and cultural practices into its implementation of lean. It supplies examples that show how lean and innovation can work hand-in-hand to transform your value streams.
Transforming Health Care : Virginia Mason Medical Center's Pursuit of the Perfect Patient Experience. Kenney, Charles (2010)
After a decade of dedicated work, Virginia Mason stands as an example of how to deliver health services that practise wellness, operate in the black, and do no harm.
Lean Leadership for Healthcare : Approaches to Lean Transformation. Bercaw, Ronald G. (2013)
Mapping Clinical Value Streams. Jackson, Thomas L. (2013)
Leading the Lean Healthcare Journey : Driving Culture Change to Increase Value. Wellman, Joan; Jeffries, Howard; Hagan, Pat (2010)
The Power of Ideas to Transform Healthcare. Hoeft, Steve (2015)
5S for Healthcare. Jackson, Thomas L. (2009)
Reading Lists
King's Fund Reading Lists
The King's Fund produces a range of regularly updated reading lists on a range of topics in healthcare management. Many of the documents are freely available, others may be ordered through us or we may already have them in stock
Useful Links
Advisory Board
Access is available for staff of Shrewsbury and Telford Hospital NHS Trust