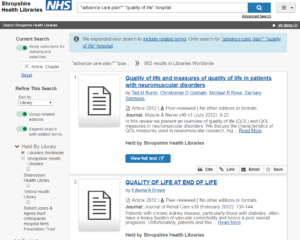 We're moving to a new 'discovery system' in late October that will encompass many of our resources in a single-search. So, you'll be able to search print books, e-books, and articles from one search box.
It's already possible to have a go at searching for articles from our test page.
The new system performs a search using Medline, Cochrane Library, PubMed Central, ERIC and PsycARTICLES databases, and returns results with articles available from our libraries first (you can easily change the sort order). You'll see links to the full-text of any articles we subscribe to or are available via open access. As now, you'll need an NHS OpenAthens account to access the full-text of many articles.
Using the search filters on the left hand side, you can change the date range, sort order, database, format and more, and see the results refreshed immediately. The new system is also designed to work on mobile devices.
You can select references and see how you should cite them in a variety of citation styles, export them to reference manager software, or email them . Once the system is fully live, you'll be able to login and save references to your personal lists (which you can also share if you want to) and we'll also in time be introducing request facilities so you can order copies of any articles we don't hold.
This doesn't replace the advanced search for articles which we would still recommend for systematic searching.
There's still some tweaking to do, and our print books still need to be added, but we hope the system will be fully live by the end of October. Do contact us if you have any questions.