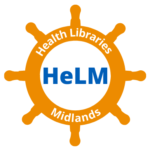 To make use of our services and facilities, you'll need to become a library member of the Health Libraries Midlands (HeLM) consortium. You can do this by completing the registration form, and you'll be sent your library number by email and your card in the post.
If you'd like a tour of the library or an explanation of our services, please ask, and we'll be happy to provide one.
If you're already a member with another library in the HeLM consortium, you can update your details online by logging into HeLM. You can read the HeLM Membership Terms and Conditions  and the HeLM Privacy Policy online.
Log into HeLM to renew your loans, reserve items or update your details.
---

To make use of our online resources, such as e-journals, e-books, databases, and evidence resources, you'll need an NHS OpenAthens account. These are available to all NHS staff and some other groups, and you can check your eligibility.
If you already have an NHS OpenAthens account with another organisation, you can change organisation online if your account is still active.
Log into OpenAthens | Change your organisation | Change your email address | Change your password | Forgotten your password?
---

We'd also recommend signing up for our fortnightly KnowledgeShare Evidence Updates.
KnowledgeShare Evidence Updates is a personalised current awareness service allowing you to receive new evidence on topics tailored to your requirements. It covers policy documents and a range of summarised evidence, so you won't be inundated with primary research articles.
You can log into KnowledgeShare with your OpenAthens account to update your personal details (if you're unable to log in, we may need to link your NHS OpenAthens account to your KnowledgeShare account)
---
Who can join the library? (click to expand)
All staff employed by Shrewsbury and Telford Hospital NHS Trust
All staff employed by Shropshire Community Healthcare NHS Trust
Students studying with or on clinical placement at the Shrewsbury and Telford Hospital NHS Trust or Shropshire Community Healthcare Trust
Volunteers at Shrewsbury and Telford Hospital NHS Trust
Some other groups may be allowed to become members - please ask a member of library staff if you're unsure
What if you are not eligible to join?
If you're not eligible to join, you can still visit the library, and you can:
Consult the stock
Make photocopies (within copyright rules)
Study as space permits
You won't be able to access any of our computers and you won't be able to use the library when it is unstaffed.