Library OmniSearch
Select a tab to search your chosen resource type. Check out our guide for more information on using OmniSearch.
Books and articles
Books
Articles
UpToDate
Evidence
Journals
UpToDate clinical decision support tool

UpToDate is an evidence-based knowledge system that helps clinicians make the right decisions at the point of care. It contains over 11,000 articles, providing evidence-graded treatment recommendations as well as diagnostic and other information for common as well as rare conditions.
It is available to Shrewsbury and Telford Hospital NHS Trust staff and students, and can be accessed via the SaTH Intranet without a password. It can also be accessed off-site and via the UpToDate mobile app. 
COVID-19 Information
Our libraries are fully open – you can drop-in, browse the shelves, use the IT and study individually. If you need to access the libraries when we are unstaffed, you may wish to arrange 24/7 access.
In line with the latest guidance from Shrewsbury and Telford Hospital NHS Trust, we ask that face masks or coverings still be worn at all time in the libraries, even if studying individually, unless exempt or when eating or drinking. Social distancing is still in place, and some areas have limited capacity.
These measures help keep you and our staff safe. Please read and observe our COVID-19 guidance during your visit.
Visit our COVID-19 Resources page for our latest Evidence Bulletins.
Get easier access to journal articles with LibKey Nomad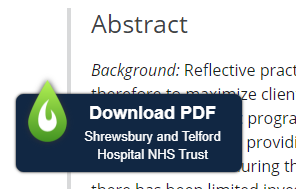 Get easier access to journal articles with LibKey Nomad
LibKey Nomad is a browser extension available for Edge, Chrome and Firefox that makes accessing the full-text of journal articles much easier and once installed it indicates if an article is available in full-text through the library on many publisher websites, along with PubMed and Wikipedia.
Recent new books