Are you looking for high-quality images for use in teaching? SaTH's subscription to UpToDate includes over 33,000 pictures, tables, illustrations, diagrams, graphs, algorithms, and videos to help you discuss and answer clinical questions with your colleagues and patients. Additionally, these graphics are easily exported to use in PowerPoint presentations for training purposes.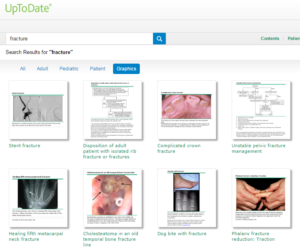 To locate graphics, you can do a topic search as usual and then select 'Graphic' to filter your search to graphics only.
The resulting graphics appear in thumbnail format; clicking on a thumbnail opens a larger version of the graphic and also provides a link to export to PowerPoint.
You can also view any graphic from within a topic by clicking the links to the images from the topic content list.
All the images in UpToDate are licensed for use in teaching within the Shrewsbury and Telford Hospital NHS Trust.