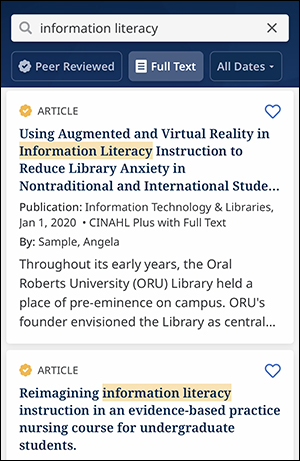 The new EBSCO Mobile app allows you to search for journal articles in a range of library databases, and access full-text where available. The databases available to NHS users include Medline, CINAHL, and the Psychology and Behavioral Sciences Collection, so there's a good coverage of healthcare topics. Many of the articles will have full-text available with a single touch.
Once you've downloaded the app, click 'Get Started', select your institution, and then login with your NHS OpenAthens account. The app will keep you logged in for 30 days.
You can also create a free personal account to save liked items (use the heart icon to save them) and synchronise these with the EBSCOhost desktop version for reading later. If you're logged into a personal account, the app will keep you logged in and retain your saved articles.
Searches can be filtered by date (using the dropdown menu, you can select the past 1,5 or 10 years) and when you click for more details, the app will check whether full-text is available. Unfortunately, there is no means to sort results by date.
Whilst the search functions are quite basic, it makes doing a quick search easy, and because it can synchronise with a desktop account it could be a handy way to find some good articles to like and read later on a bigger screen.