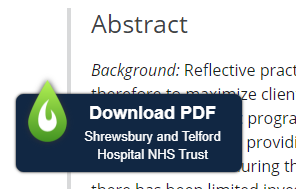 LibKey Nomad is a browser extension available for Edge, Chrome and Firefox that makes accessing the full-text of journal articles much easier. Once installed it indicates if an article is available in full-text through your library. Simply install the extension and select the organisation you work for. It works for all NHS organisations, so is available to staff of Shrewsbury and Telford Hospital NHS Trust and Shropshire Community Health NHS Trust.
As well as checking library subscriptions, LibKey Nomad also checks to see if the article is available via open access.
LibKey Nomad works on many publisher websites, along with PubMed and Wikipedia, and adds links to access the full-text or PDF (where available) making it easier to login and access the full-text quickly.
Visit our website for more browser extensions and mobile apps to make finding the evidence easier.