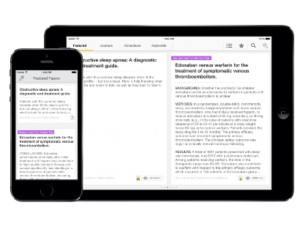 If you're looking for an easy way to see the latest articles in your favourite journals or on keywords of interest, Read by QxMD can help.
It's an app and website that tracks articles in healthcare journals and alerts you to new ones matching your interests. More than that, it can make finding the full-text easy as it links to our journal holdings, or locates open access copies. The app version can store your NHS OpenAthens account details - no more logging into OpenAthens each time you want to access an article!
It's free to create a Read by QxMD account, and you can link your account to the journal holdings of Shrewsbury and Telford Hospital NHS Trust, Shropshire Community Health NHS Trust, Staffordshire University or Keele University.
You can also add papers to your own virtual collections, recommend papers, and discuss articles.
An alternative to Read by QxMD is our KnowledgeShare service that can now offer tables of contents by email.