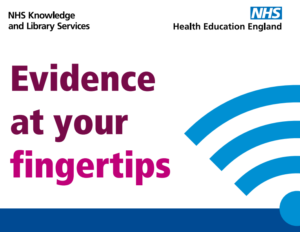 The NHS Knowledge and Library Hub is a new way to search for journal articles. Covering a wide range of databases, including Medline and CINAHL, the Hub allows you to perform simple or more complex searches, and access the full-text with a single-click (where available). Where we don't have access to the full-text, it is easy to request a copy, and the details of the item are automatically added to the request form.
The Hub offers a range of features to make searching for knowledge and evidence easier:
Search across a wide range of databases simultaneously to locate journal articles and grey literature such as reports and conference proceedings
Filter your search by date, publication type or by database
Access the PDF full-text with a single-click where available, or request a copy
Repeat your search with a single-click in a range of evidence resources such as UpToDate (SaTH only), BMJ Best Practice, Trip database, the Cochrane Library, or in our book and e-book collections
Access individual databases such as Medline, CINAHL and EMBASE for advanced searching including thesaurus terms
Email, print or save references with formatted citations in formats such as Harvard
The Hub requires an NHS OpenAthens account for access, and it is available to all NHS staff and learners.
Download our Guide to Searching the NHS Knowledge and Library Hub for more information on making the best use of the Hub and all its features.