Doctor Jargon - A new game available to borrow from Telford Health Library.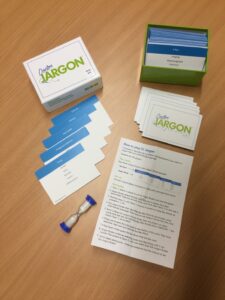 Practice communicating without using jargon!
It is all too easy to assume that patients will understand medical descriptions and technical terms but they are often just left bamboozled and confused, and are too embarrassed to ask for clarification. This game gets you to practice busting that jargon and explaining conditions and  treatment  in normal everyday language without slipping into those medical terms you use with colleagues.  Work as individuals or in teams to describe medical terminology without using key jargon and specialist language.
Can you describe MEASLES without using the words VIRUS, FEVER, IMMUNISATION, CONTAGIOUS  or CONJUNCTIVITIS?
How would you describe ECHOCARDIOGRAPHY without mentioning ULTRASOUND, CARDIAC, DOPPLER, VALVE or DIAGNOSIS?
Why not try it in a group of colleagues or at an update meeting - a fun way to practice good patient communication skills.