A short introduction to Medical Terminology course -  Thursday 3 August 2.30—3.30 via MSTeams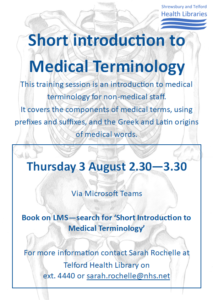 This short session is designed as an introduction to medical terminology for non-medical staff.
Medical words can seem unpronounceable and complicated but by learning how the words are made up, and what each component of the word means, we can begin to understand these terms better.
This session will cover the components of medical words, using prefixes and suffixes, and the Greek and Latin origins of medical words.
Book your place via the LMS system.
For more information contact Sarah Rochelle at Telford Health Library on ext. 4440 or sarah.rochelle@nhs.net