Are you regularly working with medical terminology but not medically trained?  Are you sometimes confounded and bamboozled by medical terms and doctors' jargon?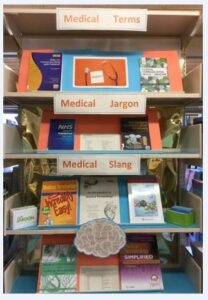 Your Health Library can help!  We have a selection of books on medical terminology, explaining how conditions and treatments get their names, as well as the Latin and Greek components that are used to create them. Splitting the word into its parts very often makes it so much easier to understand – and to type too!
Confused by PHEOCHROMOCYTOMA?
PHEO-                   means dusky
-CHROMO-           means colour
-CYT-                      refers to a cell
-OMA                      a suffix meaning tumour
Visit SaTH Health Libraries today.  We are staffed 8.30 – 17.00 Monday to Friday.
OR join the library online