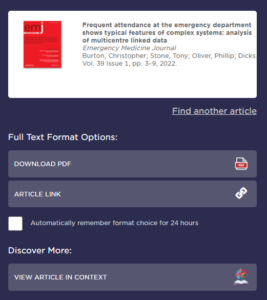 There has been a change in the way full-text links in KnowledgeShare Evidence Updates are provided that should make it easier for you to access the full-text of articles you are alerted to.
Where a resource (usually a journal article) has a link that says 'Check for full-text availability' you'll be taken to the LibKey system. The first time you use it, you'll need to specify which organisation you work for. Once you've done that, you'll be provided with links to the full-text (if we have access) or a link to our request form (if we don't) which will automatically populate with the resource details to make it really easy to order a copy.
You'll need an NHS OpenAthens account to view full-text articles or to order items from us.
You may also see a link to 'View article in context' and this will allow you browse the contents of the journal issue where the article is.
If you haven't already signed up, our KnowledgeShare Evidence Update service is a personalised current awareness service allowing you to receive new evidence on topics  tailored to your requirements. It covers policy documents, guidance, reports, and a range of summarised evidence, so you won't be inundated with primary research articles, and emails are sent each fortnight.