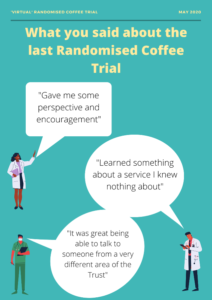 Randomised Coffee Trials (RCTs) are a well-used way to meet people across an organisation and find out more about them. They can help to give you a better idea of what goes on in other teams, and what their challenges are. It's an easy way to meet new people, build relationships, share learning and build community.
In these times, they can also be a good way to promote your own mental wellbeing, talk about how you're feeling, and feel more connected.
We ran a successful Randomised Coffee Trial across Shrewsbury and Telford Hospital NHS Trust last November, and the feedback was really positive with people learning new things and making new connections.
This year will be a little different and instead of meeting face to face, we're encouraging 'virtual' meetings. This could be as simple as a phone call, or you may want to try a video call if that suits you both. So, grab a hot drink and get talking! It's also open to any NHS staff or students across Shropshire.
Simply send your details to Jason Curtis (jason.curtis1@nhs.net) and you'll be randomly* matched with someone. You'll then arrange to meet virtually with them for half an hour over a coffee (or any other hot drink) during May. What you talk about is up to you, and it doesn't need to be work-related.
* May not be entirely random, as we'll try to make sure your RCT partner is from a different team