The Royal Marsden Manual of Clinical Procedures is an essential guide for nurses, nurse associates and healthcare assistants, and contains over 350 evidence-based clinical procedures related to every aspect of nursing care, from handwashing to cardiopulmonary resuscitation.
As well as supporting clinical practice, it can aid in writing local guidelines, in audits, and it can be used for educating staff.
How to access
The Royal Marsden Manual is available to SaTH staff and students via the SaTH Intranet Apps menu without a password. Simply click the icon to get full access.
Off-site access is also available to staff and students of Shrewsbury and Telford Hospital NHS Trust, and also to Shropshire Community Health NHS Trust via an NHS OpenAthens account. NHS OpenAthens accounts allow access to a range of library and knowledge resources.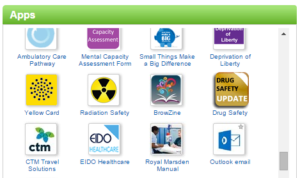 There is currently no mobile app, but the website is optimised for use on tablets and mobiles.
The Manual can be searched to find a procedure, or you can browse by chapter, procedure or illustration.
Local guidelines and notes
Local guidelines can be added to the Royal Marsden Manual in the form of links to the specific guideline on the SaTH Intranet, and local guidelines will then appear in search results.
It is also possible to add local notes to a Royal Marsden Manual guideline, and any local content is distinguished by a pink background.
If staff from Shrewsbury and Telford Hospital NHS Trust, and Shropshire Community Health NHS Trust would like to discuss adding local information, please contact either Jason Curtis, Site Librarian at Shrewsbury on 01743 492511 or jason.curtis1@nhs.net, or Louise Stevens, Site Librarian at Telford on 01952 641222 ext. 4694 or l.stevens@nhs.net.