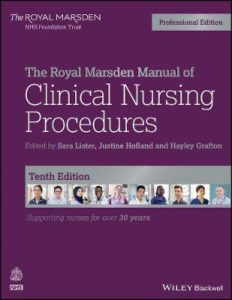 The Royal Marsden Manual of Clinical Nursing Procedures provides over 350 evidence-based clinical skills procedures related to essential aspects of a person's care, based on the latest research findings and advice from clinical experts.
Many procedures have illustrations to explain procedures and can be used for teaching.
Password-free access is available either via the SaTH Intranet, the Shropcom Staff Zone. For off-site use, access is available for SaTH and Shropcom staff via an NHS OpenAthens account. There is no mobile app, but the manual is designed to work on mobile devices.