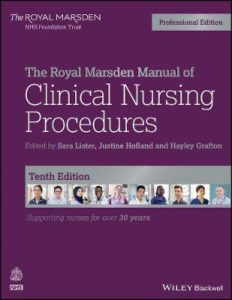 The Royal Marsden Manual of Clinical Nursing Procedures provides over 350 evidence-based clinical skills procedures related to essential aspects of a person's care, based on the latest research findings and advice from clinical experts.
Many procedures have illustrations to explain procedures and can be used for teaching.
Password-free access is available either via the SaTH Intranet, the Shropcom Staff Zone. For off-site use, access is available for SaTH and Shropcom staff via an NHS OpenAthens account. There is no mobile app, but the manual is designed to work on mobile devices.
Copies are also available for loan from the libraries. Shelved in the Shrewsbury Health Library at WY 125 LIS and Telford Health Library at WY 100 LIS.