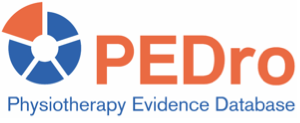 PEDro is a small database of evidence-based information relating to physiotherapy, and is updated montly. It contains 53,000 systematic reviews, randomised controlled trials and clinical practice guidelines.
Randomised controlled trials in PEDro are critically appraised and given a quality score according to the PEDro Scale.
PEDro is free to search and no password is necessary.
PEDro does not link to our journal subscriptions so does not always link to available full-text. To check if full-text is available, we suggest copying the pasting the title of the article into the Article tab on OmniSearch and running a search to check.
As it is a smaller database, we would recommend also searching CINAHL, EMCare and Medline for physiotherapy topics.