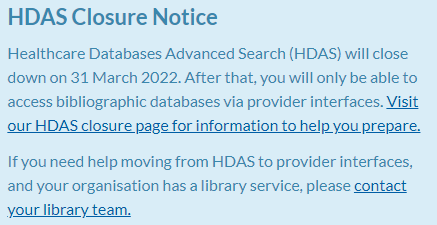 At the end of March 2022, the Healthcare Databases Advanced Search (HDAS) interface provided by NICE for advanced searching for articles is going to be turned off. The same quality databases will still be available however (Medline, CINAHL, EMBASE and more) but these will then be searched via their provider interfaces (EBSCO, Ovid or ProQuest).
This does mean that there are new interfaces to learn (though the principles of searching remain the same) and you may need to search across two or even three different interfaces for comprehensive coverage of a topic using different databases (for example, if you're doing a systematic review).
The good news is that for many searches, the NHS Knowledge and Library Hub provides an easy way to search for articles and grey literature across a range of databases and information sources.
For more advanced searching needs, we will be producing search guides and offering training on how to make the best use of the provider interfaces.
We already have some guides that may be helpful.
We have a guide to Searching Medline and CINAHL via EBSCO, and we also have a guide to the use of different Search Operators across a wide range of healthcare databases (including how to access the thesaurus, how to do proximity searches, and whether a databases offers Boolean operators). If you're unsure of even which database to start with, we have a rough outline of the coverage of the main healthcare databases for literature searching.